Exclusive Golf Demand Model
Golfers and Rounds Played - Anywhere in the U.S.!
NGF has estimated the number of golfers, best customers and rounds played for all U.S. geographies including cities, counties, ZIP codes and even neighborhoods. We've done this using a statistical model that takes into account known golf participation, golf facility supply, rounds played, demographics and other factors.
There Are Three Ways to Access NGF's Golf Demand Model Data
Decision Support System Workbooks
Custom Reports
NGF GolFacts
Decision Support System Workbooks
These are Excel workbooks at the MSA level (MSA means "metropolitan statistical area." There are 366 MSAs which are larger cities and exclude rural areas.)
Each workbook contains five worksheets containing data for each MSA (over 100 variables in total):
Demographics
Golf Demand
Golf Supply
Golf Demand and Supply Ratios
Golf Retail Supply
Demographics - Basic demographics of overall (not golfer) population, including number of people, age, income, etc. Also includes growth trends.
Golf Demand - Number of golfing households, number of individual golfers, participation rate, rounds demanded. Also includes rankings and indices for golfers and rounds enabling quick comparisons between markets.
Golf Supply - Complete analysis of golf supply from NGF's golf facility database. Number of golf courses by type and price point, number of courses built in the last 10 years, number of courses under construction, and more.
Golf Demand and Supply Ratios - Ratios of Golf Demand and Golf Supply described above. For example, the number of golfing households per 18-hole equivalent. Ratios provide critical data regarding the interaction of supply and demand in every market.
Golf Retail Supply - The number of stand-alone golf specialty stores, square footage and retail/demand ratios.
To order a Decision Support System Workbook, call NGF at 888.643.2500.
Custom Reports
If you don't need all of the data contained in the Decision Support System, call us with your custom data needs. Examples:
All demand data for northern California.
Supply and demand data for 15 counties in Texas.
Number of golfing households for all 366 MSAs.
To order a custom report, call NGF at (888) 643-2500.
GolFacts Market Data Services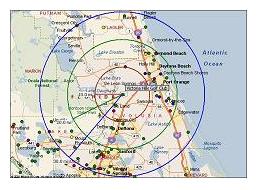 GolFacts was designed for use by golf market researchers, appraisers, brokers, golf facility developers and other knowledgeable users. Filled with essential golf market data, the report can significantly reduce the time required to conduct various due diligence efforts. GolFacts presents an initial overview of the basic characteristics of a specified golf market area. This "first look" is intended to help our golf-knowledgeable clients identify relevant parameters about the market, especially those pertaining to the local golf facility supply and the population that is available to support it. The report also offers comparisons to the state and nation as a whole.
GolFacts provides a cost-effective foundation for conducting more advanced studies. For the GolFacts Report, you would provide a location (street address, crossroads, center of town, or zip code) from which we will generate market data such as estimated number of golfing households, average rounds demanded per household, actual number of golf facilities and a ratio of golf facilities to households available to support them. Because this product presents a snapshot of the existing and projected golf demand/supply equation, it is especially relevant to individuals or companies that are in the business of buying or selling golf courses.
The GolFacts report can be purchased with up to three markets per location, based on mileage rings, drive time areas, county, MSA, or state.
A GolFacts Report includes:
Proprietary NGF golf supply and demand indices for both golfers and rounds played
Expansive population demographics, including current population estimates with five-year projections
Estimates of the number of golfing households and rounds played
Rankings of subject on the measures of golf participation rates, number of golfing households, predicted demand, and number of existing golf facilities by type
Order a GolFacts Report
Request a Free GolFacts Report Sample
GolFacts Plus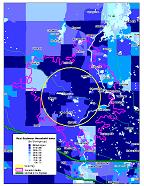 A GolFacts Plus Report includes all GolFacts Report components as well as:
Key findings by an NGF Consultant
Analysis of new course development activity over the past five- and 10-year periods
Complete golf facility supply listings, including courses in planning and under construction
Complete listing of golf ranges and golf specialty retail stores
Detailed rounds and golfer density maps
Proprietary golf development matrix
Order a GolFacts Plus Report
Request a Free GolFacts Plus Report Sample
Additional golf decision support systems are available, call NGF at 888.643.2500.
Last Updated: 4/7/2010 1:38:05 PM / Generated at: 12/18/2014 9:21:16 AM